Hernando leaders debunk Six Flags hoax
BROOKSVILLE — County commissioners Tuesday shot down a pervasive rumor that Six Flags is poised to break ground on a new theme park on property located at State Road 50 and U.S. Highway 19, right across from Weeki Wachee.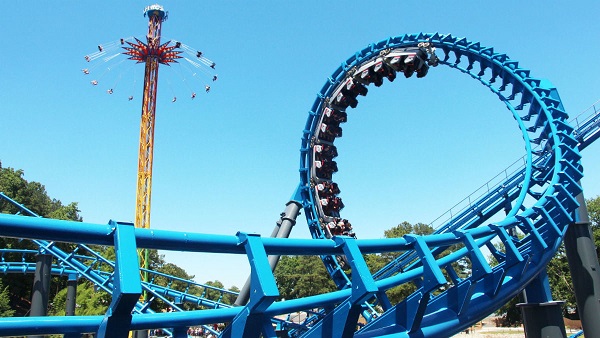 Six Flags in Florida
The rumor, masquerading as a factual news story on a local blog site called the Spring Hill Courier, has created a minor firestorm of phone calls and inquiries to county staffers and commissioners this past weekend.So much so that it reached the county commission level at Tuesday's meeting."There are some members of the public who have bought into this," county attorney Garth Coller told the board at Tuesday's meeting. "It's a joke."The article went on to quote a high-ranking official purportedly from Six Flags, who said the entertainment giant was eager to start construction and the amusement park could open in 2018.It also cited someone from the county's Tourism Procurement Planning Commission which, as County Commissioner Diane Rowden pointed out, is a fictitious department."This rumor's been going on for about 20 years," Rowden said.
Six Flags has been rumored to go into multiple sites in Hernando County, including the Boy Scout reserve on State Road 50.
A building department official said something this massive would likely require a comprehensive plan amendment and if such a theme park was coming, the word would get out officially and not by rumors.
Rowden called the blog site Hernando County's version of The Onion, a satirical entertainment Internet website.
The writer of this article was listed as Frank Fencil. Other stories on the site include pieces about golfer Tiger Woods shopping for a wedding ring at the local Kohl's and a beached whale that exploded Memorial Day at Bayport.
Virginia Singer, the county's public information manager, said she plans to put something on the county's Facebook site to let people know the Six Flags story is a hoax.
"It's not an official or accurate news source for Hernando County," Singer said.
Hernando Today has been unable to track down the writer of the Spring Hill Courier.
The last time Hernando County had a blog devoted to satire was a few years ago when ex-County Commissioner Jeff Stabins wrote Rusty's Tale. Stabins, still a commissioner while he wrote the blog, poked fun at local, state and national public figures.
Commission Chairman Wayne Dukes said he assured a constituent that a Six Flags is not on the radar for Hernando County.
But then, Dukes said, "I'm the last person to know."
County Administrator Len Sossamon quipped that if Six Flags ever did come here, it may be downsized.
"We're too small to get six flags," he said. "We're only getting three."
(352) 544-5290